MDF Sheets Cut To Size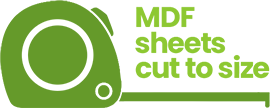 MDF or Medium Density Fibreboard is an engineered wood. Made by combining wood fibres with a resin under high pressure to form it into sheets. This man made process gives it a reliable uniform strength, making it a versatile building material with a number of uses. MDF sheets are available in various grades. We stock Standard, Moisture Resistant, Fire Retardant, White 2 Sided and Exterior MDF.
All MDF sheets are available in sizes up to 2400mm in length and 1220mm in width. With a minimum lengths and widths of 50mm. Simply select the type and thickness of MDF you require using the calculator below. Add your required dimensions, then choose the quantity you need.
Added to Basket
Your custom product has been added to your basket.
Standard MDF
We are able to supply Standard MDF in the following thicknesses; 3mm, 6mm, 9mm, 12mm, 15mm, 18mm, 22mm, 25mm, and 30mm.
Moisture Resistant MDF
Moisture Resistant (MR) MDF has been manufactured to be used in humid conditions, or where it may get wet. This makes it particularly useful in kitchens and bathrooms. MR MDF is available in thicknesses of 6mm, 9mm, 12mm, 15mm, 18mm, and 25mm.
Fire Retardant MDF
Fire Retardant (FR) MDF has been specifically designed to be used in situations where, due to building regulations, an increased ability to withstand fire is necessary. FR MDF is available in 12mm, 18mm, and 25mm thicknesses.
White 2 Sided MDF
White 2 Sided MDF is often used in making furniture. Such as kitchen cupboards and wardrobes. This is available in a thickness of 18mm.
Exterior MDF
Exterior MDF has been specifically developed to be able to withstand the increased harshness of outside use. It is available in a thickness of 18mm.
We also stock Plywood and Melamine Faced Chipboard. Follow the links for further information on these products.