White Melamine Board
Mersey MDF can supply white melamine board cut to size. The chipboard is available from us in 15mm and 18mm thicknesses. Perfect for use in kitchens, wardrobes and other pieces of household furniture.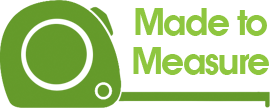 White melamine board is not the only colour we stock. There are over 50 different colours to choose from. So, no matter what shade you need to match the decor in your home or office we are sure to have it. To allow you to pick the correct colour, samples are available. You can pick up to 4 colours, and are only required to pay postage.
To order your chipboard, simply enter the required dimensions below. Then pick your colour. And finally add it to your basket.
Maximum depth = 2500 mm
Maximum depth = 796 mm
2

Choose Colour Click to view larger image
FINSA White Gloss: please note, this board length is 2750mm not 2800. Thank you.
DISCLAIMER - Real wood veneered MDF
IMPORTANT NOTICE – PLEASE READ CAREFULLY
Because wood is a natural material, every piece of hardwood veneer will have a unique appearance, often with naturally-occurring variations in color, texture and grain pattern. Showroom samples and photographic reproductions can give an example of the product's appearance but they may not be representative of the full range of color, texture and grain variations, which can occur in the product itself. The images we have provided are for reference only and should not be used as the sole basis for choosing a particular variant of veneer. Our veneered MDF door and wall shelf products come unfinished and, as such, will require further work by the end user e.g. fine sanding; waxing; oiling; varnishing etc. Natural wood products will undergo a change in color when exposed to the ambient light in a home environment. Generally colors become richer and grain patterns more harmonized. The effect will vary by species.
£
0.00
per unit.
Total £

0.00
Select this Colour
Sold Out