>
Plywood Sheets Cut to Size
Plywood Sheets Cut to Size
Plywood is an engineered wood made by gluing layers of wood veneer together. The layers of wood are glued together at 90 degrees. This is known as cross graining, and reduces the chances of the material splitting, expanding or contracting over time. These properties make it a excellent choice in a wide range of projects. Such as making furniture, doors, and panelling. Plywood sheets are available in various grades. We stock G1S, FE, Marine, Birch, Mesh and OSB.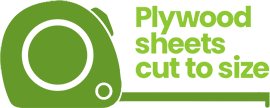 Plywood sheets are available in sizes up to 2400mm in length and 1220mm in width. With a minimum lengths and widths of 50mm. Simply select the type and thickness of Plywood you require using the calculator below. Add your required dimensions, then choose the quantity you need.
Added to Basket
Your custom product has been added to your basket.
G1S Plywood
G1S Plywood, or Good 1 Side, is a smooth finished wood which is typically used for non-structural projects. G1S plywood is available in thicknesses of 12mm and 18mm.
FE Plywood
FE Plywood, or Far Eastern Plywood, can be supplied in the following thicknesses; 6mm, 9mm, 12mm, 15mm, 18mm, and 25mm.
Marine Plywood
Marine Plywood is often the material of choice for external applications. This is because it is resistant to moisture and rotting due to fungus. We can supply this is thicknesses of 6mm, 9mm, 12mm, 18mm, and 25mm.
Birch Plywood
Birch Plywood is a high quality hardwood panel manufactured from dense timber. The multiple layers of this timber is it made from is what gives it its structural stability. We supply this in thicknesses of 6mm, 9mm, 12mm, 15mm, 18mm, and 25mm.
Mesh Plywood
Mesh Plywood is a type of Birch Plywood which has been overlaid decorative finish. This is what enables it to be used as flooring. Mesh Plywood is available in a thickness of 18mm.
OSB
Oriented Strand Board (OSB) is an engineered wood which has similar properties to particle board. Its strength makes it suitable for load bearing applications in construction. This can be supplied in 9mm, 12mm, and 18mm thicknesses.
We also stock MDF and Melamine Faced Chipboard. Follow the links for further information on these products.