>
Melamine Faced Chipboard
Melamine Faced Chipboard
Melamine Faced Chipboard or MFC is a very versatile building product. It is all around us every single day of our lives. For example melamine board is used in kitchens cupboards, shop furniture, wardrobes and many other pieces of commercial or house hold furniture.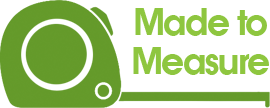 At Mersey MDF, Plas and Ply we stock over 30 different colours of melamine faced chipboard. We can supply melamine board in thicknesses of 15mm or 18mm. All you need to do is select your thickness, size and colour from the order form below. And we will cut the board, made to measure to your exact requirements.
Samples available on request HERE. Order up to 4 colours.
Each board can be cut to size into a range of widths. The 15mm chipboard comes in 2.44m (8 foot) long pieces, and the 18mm boards comes in 2.8m (9 foot 2 inch) pieces. Each board is edged in matching melamine edging tape along the two long edges. Iron on edging tape is also available in 5m rolls from the accessories section of this site.
Maximum depth = 2500 mm
Maximum depth = 796 mm
2

Choose Colour Click to view larger image
FINSA White Gloss: please note, this board length is 2750mm not 2800. Thank you.
DISCLAIMER - Real wood veneered MDF
IMPORTANT NOTICE – PLEASE READ CAREFULLY
Because wood is a natural material, every piece of hardwood veneer will have a unique appearance, often with naturally-occurring variations in color, texture and grain pattern. Showroom samples and photographic reproductions can give an example of the product's appearance but they may not be representative of the full range of color, texture and grain variations, which can occur in the product itself. The images we have provided are for reference only and should not be used as the sole basis for choosing a particular variant of veneer. Our veneered MDF door and wall shelf products come unfinished and, as such, will require further work by the end user e.g. fine sanding; waxing; oiling; varnishing etc. Natural wood products will undergo a change in color when exposed to the ambient light in a home environment. Generally colors become richer and grain patterns more harmonized. The effect will vary by species.
£
0.00
per unit.
Total £

0.00
Select this Colour
Sold Out