Bathroom Shelves
Storage is arguably the most important element to a home – where can you put all that stuff that you accumulate over the years? Shelving is the most basic form of storage there is in a home, but in simplicity there can be beauty. A bare wall maybe a blank canvas for pictures, mirrors, hooks and wall lights, but if you want to use that space optimally then look no further than humble bathroom shelves.
And no matter how homes change and advance in design and technology, shelves will never be bettered for display and storage and have been around forever.
Today, there are countless types of shelves and fixings to meet every need and look for every room.
A shelf is the perfect answer to a home overrun with clutter and can help bring a sense of order – especially if cupboards are full. It's also the perfect antidote to bulky cupboards and sideboards and they come in so many different forms.
The Best Wood for Bathroom Shelves?
MFC or melamine faced chipboard comes highly recommended as the ideal choice for a bathroom. It is extremely hard wearing and designed for robust use in highly trafficked areas of the home. The shelves are edged in high impact PVC tape that matches the colour of the shelf.
Additionally, you need to decide on the shelf's thickness. At Mersey MDF we offer a shelf thickness at 18mm thick. The maximum length of our MFC shelves is 2500mm with a maximum depth of 600mm, easily enough for any bathroom, although we can help with oversized shelves too. We also have a wide range of 41 colours and wood grains to suit every taste and style.
Ordering shelves is as simple as the shelf itself. Select your colour, the length and size below. Add the quantity needed and just add to the basket. We also sell accessories such as handles, hinges, wall brackets and edging tape.
Please note –
Our shelves are not suitable for use with floating shelf brackets.
Orders with a required depth of over 600mm should be sent to info@merseympp.co.uk
Made to measure (mm):
Maximum width = 2500 mm
Minimum depth = 115 mm
Maximum depth = 600 mm
Note: Grain direction runs parallel to the width.
DISCLAIMER - Real wood veneered MDF
IMPORTANT NOTICE – PLEASE READ CAREFULLY
Because wood is a natural material, every piece of hardwood veneer will have a unique appearance, often with naturally-occurring variations in color, texture and grain pattern. Showroom samples and photographic reproductions can give an example of the product's appearance but they may not be representative of the full range of color, texture and grain variations, which can occur in the product itself. The images we have provided are for reference only and should not be used as the sole basis for choosing a particular variant of veneer. Our veneered MDF door and wall shelf products come unfinished and, as such, will require further work by the end user e.g. fine sanding; waxing; oiling; varnishing etc. Natural wood products will undergo a change in color when exposed to the ambient light in a home environment. Generally colors become richer and grain patterns more harmonized. The effect will vary by species.
£
0.00
per unit.
Total £

0.00
Select this Colour
Sold Out
Bathroom Shelving Ideas
A bathroom without shelving of some description sounds like an obstacle course, especially as it is often one of the smallest rooms in the house.
When considering what shelf is right for you, you should also decide what it's going to be used for over time. You might also like to consider not only its practicality but also its look – is it there also to make statement or to be hardly noticed?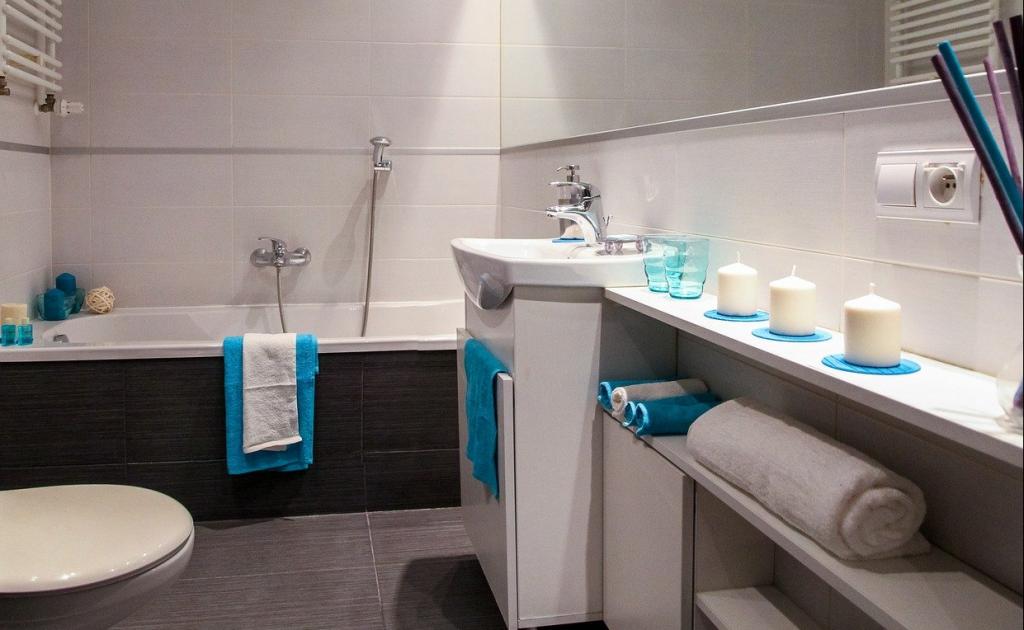 Bathroom shelves hold our essential everyday items such as shampoos and conditioners, toothbrushes and toothpaste, even cleaning products and towels and there are various approaches even in this room to keep your floor clutter free.
For example, open bathroom wall shelves to display lotions and potions and allow easy access or to keep items away from smaller hands. You can even have a modern bathroom shelf  for those cleaner lines and slicker look or handy corner shelves to maximise storage space. Both are also great for a bit of biophilia – plants on shelves in bathrooms add a calming splash of colour and life.
When choosing the right shelf consider also freestanding bathroom storage shelves, that add texture and form and if you use a modular unit with adjustable shelves you can future proofing your storage needs.
Buying your New Shelves?
While there are so many ready-to-use options on the market, from countless bathroom shops or retail park DIY stores, every bathroom is different, so made to measure wall shelves offer both a cost effective and bespoke solution to your storage needs.
At Mersey MDF all our bespoke shelves are cut to size in our factory in Liverpool, Merseyside and shipped direct to you or collectable from the factory if you wish. By purchasing from our site you are bypassing the retailer and buying direct from the manufacturer and saving money.