Living Room Shelves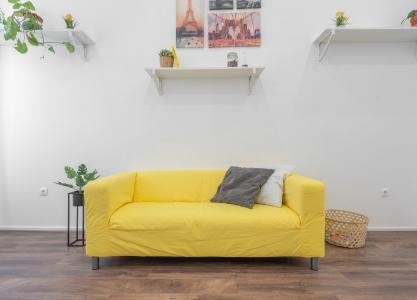 Having the appropriate storage available can transform a room. Turning lifeless walls into the focal point of a space. Living room shelves are far from simply a place to store your clutter. They can be an expression of your hobbies and interests.
Living rooms are generally one of the most used rooms in a home. So keeping them organised is a must. Adding shelving to a room is a great way of getting rid of that clutter.
Our bespoke living room shelves come in a range of finishes. This means we are able to manufacture shelving in a colour sure to compliment your decor. And as the shelves are made to measure, we can make them the perfect size to fit any gap or alcove.
We also sell accessories such as handles, hinges, wall brackets and edging tape.
What should Living Room Shelves be made from?
We make our shelves from 18mm thick melamine faced chipboard. This coupled with the PVC edging tape we add to our shelves, gives them the durability which makes it an ideal choice to cope with being used in the home.
Ordering wall shelves from Mersey MDF couldn't be easier. Just select your desired finish and the dimensions you require. Add the quantity needed, and then add to the basket. We also sell the wall brackets you need to affix your shelves to the wall.
Please note –
Our shelves are not suitable for use with floating shelf brackets.
Orders with a required depth of over 600mm should be sent to info@merseympp.co.uk
Made to measure (mm):
Maximum width = 2500 mm
Minimum depth = 115 mm
Maximum depth = 600 mm
Note: Grain direction runs parallel to the width.
DISCLAIMER - Real wood veneered MDF
IMPORTANT NOTICE – PLEASE READ CAREFULLY
Because wood is a natural material, every piece of hardwood veneer will have a unique appearance, often with naturally-occurring variations in color, texture and grain pattern. Showroom samples and photographic reproductions can give an example of the product's appearance but they may not be representative of the full range of color, texture and grain variations, which can occur in the product itself. The images we have provided are for reference only and should not be used as the sole basis for choosing a particular variant of veneer. Our veneered MDF door and wall shelf products come unfinished and, as such, will require further work by the end user e.g. fine sanding; waxing; oiling; varnishing etc. Natural wood products will undergo a change in color when exposed to the ambient light in a home environment. Generally colors become richer and grain patterns more harmonized. The effect will vary by species.
£
0.00
per unit.
Total £

0.00
Select this Colour
Sold Out
Buying New Shelves?
While there are off the shelf options on the market, from retail parks or DIY stores. No two living rooms are the same. So made to measure wall shelves are the best option to ensure you get the best bespoke solution to your storage needs.
At Mersey MDF all our shelving is cut to size in our factory in Liverpool, Merseyside. And shipped direct to you, or collectable from the factory if you wish. By purchasing from us you are bypassing the retailer. Buying direct from the manufacturer and saving money.