>
>
Made To Measure Replacement Kitchen Doors
Made To Measure Replacement Kitchen Doors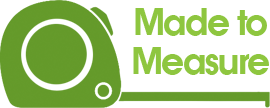 Our made to measure replacement kitchen doors and drawer fronts are custom-made to your requirements and, with over 50 stock décors to choose from and access to hundreds more* from the world's leading manufacturers, our doors will give your kitchen a new lease of life.
Choose from sleek light reflecting gloss finishes, warm wood grains, urban concretes and a wide range of solid colours invoking everything from crisp and clean to rich and dramatic; deep and sumptuous.
We will edge your made to measure replacement kitchen doors in matching PVC as standard however, you can choose to have your doors edged in any available colour to compliment, contrast or accentuate the look of your interior.
Add handles from our available range to really enhance the look and overall finish.
Please note: If you require vinyl wrapped replacement kitchen doors you should call our customer services on 01515471919. These are not available to buy via our website.
*for none-stock décors please contact us via email or phone for pricing and availability.
Choose your colour then size and then add the quantity.
or Made to measure (mm):
Maximum depth = 2500 mm
Maximum width = 796 mm
Note: Grain direction runs parallel to the height.
Do you require hinge holes
(£2.4 per hole)
£2.40 for the first pair and then £1.20 for each subsequent pair
DISCLAIMER - Real wood veneered MDF
IMPORTANT NOTICE – PLEASE READ CAREFULLY
Because wood is a natural material, every piece of hardwood veneer will have a unique appearance, often with naturally-occurring variations in color, texture and grain pattern. Showroom samples and photographic reproductions can give an example of the product's appearance but they may not be representative of the full range of color, texture and grain variations, which can occur in the product itself. The images we have provided are for reference only and should not be used as the sole basis for choosing a particular variant of veneer. Our veneered MDF door and wall shelf products come unfinished and, as such, will require further work by the end user e.g. fine sanding; waxing; oiling; varnishing etc. Natural wood products will undergo a change in color when exposed to the ambient light in a home environment. Generally colors become richer and grain patterns more harmonized. The effect will vary by species.
£
0.00
per unit.
Total £

0.00
Select this Colour
Sold Out
Added to Basket
Your custom product has been added to your basket.