>
>
Make a Bold Statement with a Refurbished Kitchen Door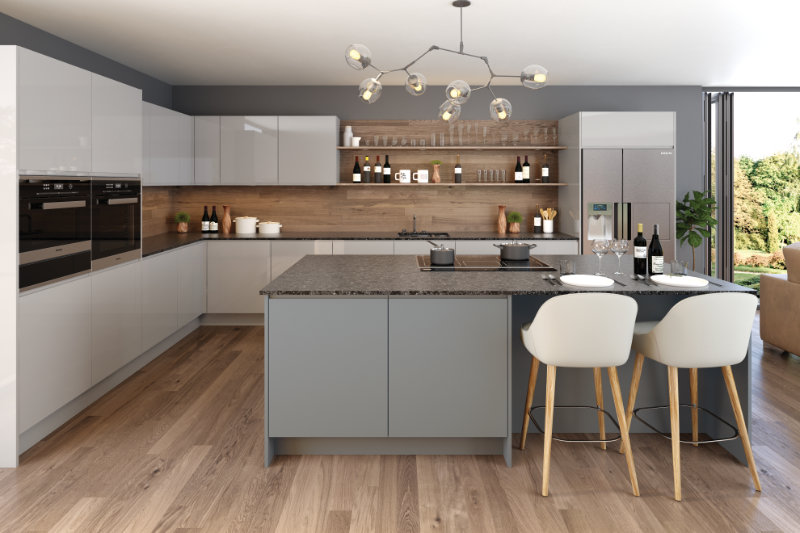 Make a Bold Statement with a Refurbished Kitchen Door
Replacing a door is never a welcome piece of home improvement. They can be costly and if you're doing it yourself, fiddly to install. However, it can also be the perfect chance to make a bold statement with just a splash of colour.
Take a walk into your friend or neighbour's kitchen and you'll probably see much of the same. Off-white walls, dark grey surfaces, and a mixture of white and silver appliances. It's a classic formula and yes, it does create a modern and easy to maintain look.
But do you really want the part of your house in which you spend a huge percentage of your time to look like a page out of an Ikea brochure? Time to put an individual stamp on this all-important space.
Colour
The major question is colour. An aquamarine door might stand out a bit in a room that's otherwise shades of grey. So what you need to do is consider the existing tones in the room, then go one step bolder.
For example, let's imagine you have the kitchen described above, but you do at least have some shelves that you installed when you moved in years ago, that are a dull olive green. They're loaded with recipe books and the kids' homework at the moment, but if you spend five minutes de-cluttering then you've already begun to transform the area a little.
Then there are the kitchen units. They came with the house and they're beige like everything else. But a couple of the chrome handles do need replacing. Can you see where I'm going here? Simply by replacing them with some nice new olive green handles, all of a sudden you have a subtle but obvious theme going. You've even fixed another niggling DIY job that otherwise would never have been done.
Lighting
As a basic rule, the better illuminated the room, the darker you can go with your design. You don't want to create a gloomy look if the lights are clustered at the other end of the room or if they're warm yellow bulbs. But if we imagine you have bright white LED spotlights that cover the length and breadth of the room, then you can probably go for a darker moss, juniper or pine green for your brand new kitchen door. You want this to be a real feature of the room and stand out, after all.
Texture
Do you want matte, satin or gloss? Again this will come down to personal preference, but as a frame of reference, take a look at the room's other textures. Do you have a lot of shiny, new, metallic surfaces? Or is the room dominated largely by the natural tones and textures of wood or long ago painted shelves? If it's the former, then a high gloss kitchen door can really fit in. It not, maybe a more sensible choice is something a little more subtle.
You can even save some money here. Instead of completely replacing the old battered and chipped door, why not completely strip it down and repaint? Then all you need to buy is some shiny new hinges. To strip old paint, use an old brush to apply a thick coat of specially designed paint remover, the type you can pick up in any hardware outlet.
Leave for 20 minutes, until the paint begins to bubble, then simply remove the softened paint with a scraper. You may need a second coat. Once this is done you'll have a blank canvass on which to lather your fresh new colour. It'll feel even more satisfying knowing you've recycled and created this fab new look with your own blood, sweat and tears.
Now you've done the hard work in planning and prepping your new kitchen, all that's left to do is the two-minute job of fitting those hinges…