>
>
Four Seasonal Ways to Decorate your Kitchen and Lift the Mood!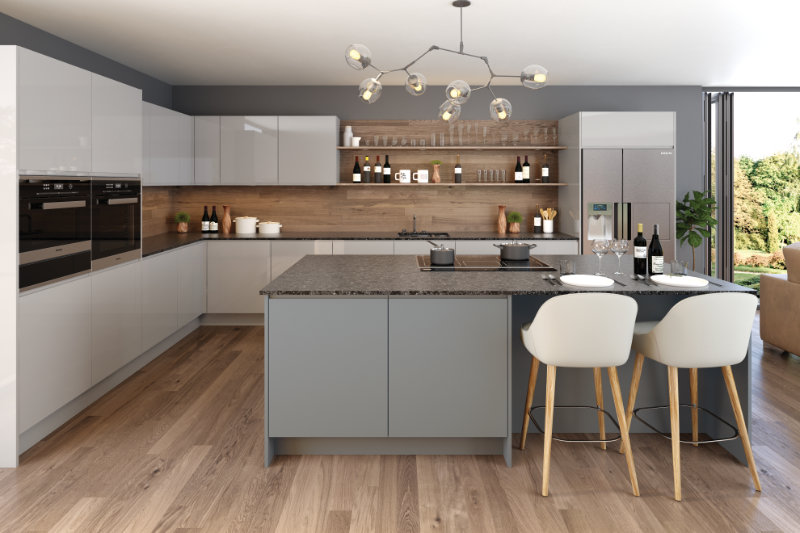 Four Seasonal Ways to Decorate your Kitchen and Lift the Mood!
The festive season is coming! We don't know if you'll get that new kitchen you want. The weatherman can't promise you snow. But there is one thing you can control, and that's the look at the heart of our home. So, read on for some great ideas on how to decorate your made-to-measure kitchen doors, wall shelves and surfaces for all the different seasons.
Getting Started
Why do guests gather in the kitchen at family events and parties? Because they feel comfortable there. Kitchens are warm and full of the wonderful smells of coffee and baking. That's why it is so important to use your kitchen to reflect the different seasons and how we feel.
Before you start, remember that safety comes first. Don't put anything flammable close to melamine faced chipboard surfaces, the cooker or any other appliances that heat up such as toasters and grills. Secondly, preserve your space. You need that for all those everyday tasks such as meal preparation and laundry. De-clutter. And remember, with each new season that arrives, it is time to clear out the grime too. Dust is not decorative! Always start with a fresh, clean look.
Winter Celebrations
Stand back and take a long hard look at your kitchen décor. There are plenty of low-cost seasonal ways to dress up your walls and surfaces and many can be stored away for re-use year after year.
• When winter arrives, kitchens are at their cosiest. Decorate your wall shelves or window ledges with a cinnamon scented candle and a beautiful glass vase filled with painted fir cones and pine twigs.
• Invest in some festive serving dishes and choose one to display for that extra flash of colour.
• Put coloured lights and fake greenery into the space above your kitchen cabinets. If you don't have a power outlet nearby, choose battery operated lights. Nothing looks more inviting on a cold, dark night!
Spring is Coming!
It's time for a spring clean! As February turns to March it's time to freshen up the indoors too! By April we want to feel energetic and alive.
• Shake the pine cones out of your glass vase and fill it to overflowing with tulips and daffodils.
• Buy some fresh new tea towels in pastel pinks, yellows and blues to add a sharp, clean look to your kitchen.
• Now that the sunshine is pouring in, make some alterations to your window décor. A pretty pastel voile shifts beautifully in a light breeze and adds an extra accent to your kitchen in spring.
Summer's Here!
When summer arrives it bursts into our homes, bringing the outdoors with it! Kitchens need to keep especially clean and cool in the summer, when things can get sticky!
• Fill a wire basket with fresh lemons and use them to make regular batches of homemade lemonade to chill in the fridge.
• Bring some beach themed designs into your decoration. Opt for striped bunting to run above your high gloss kitchen doors and fill that vase with sand and seashells.
• Remember that open windows and doors are great for letting the cool air in, but they also welcome flying insects. Investigate attractive light netting screens for any open entrances. There are plenty of semi-permanent fly screens on the market and they really make a difference when food hygiene matters.
The Leaves are Falling
Brush away the beach sand, the leaves are falling and autumn's on its way. There is always a new way to decorate and enjoy your kitchen as the seasons change.
• Spice up your kitchen with a candle holder in the shape of a carved pumpkin and pop a sweet-scented candle inside.
• Use temporary tac to fix silhouettes of witches, cats and ghosts to your kitchen cupboard doors.
• Swap your fly screens for dark orange, red or brown curtains with a pattern of falling leaves and pull them early as the nights draw in.
And Finally…
Every painter starts from a clean canvas. Contact Merseyside MDF Plas & Ply today for a free quote for updating your perfect, versatile kitchen.