>
>
Creating your Kitchen Colour Scheme from Scratch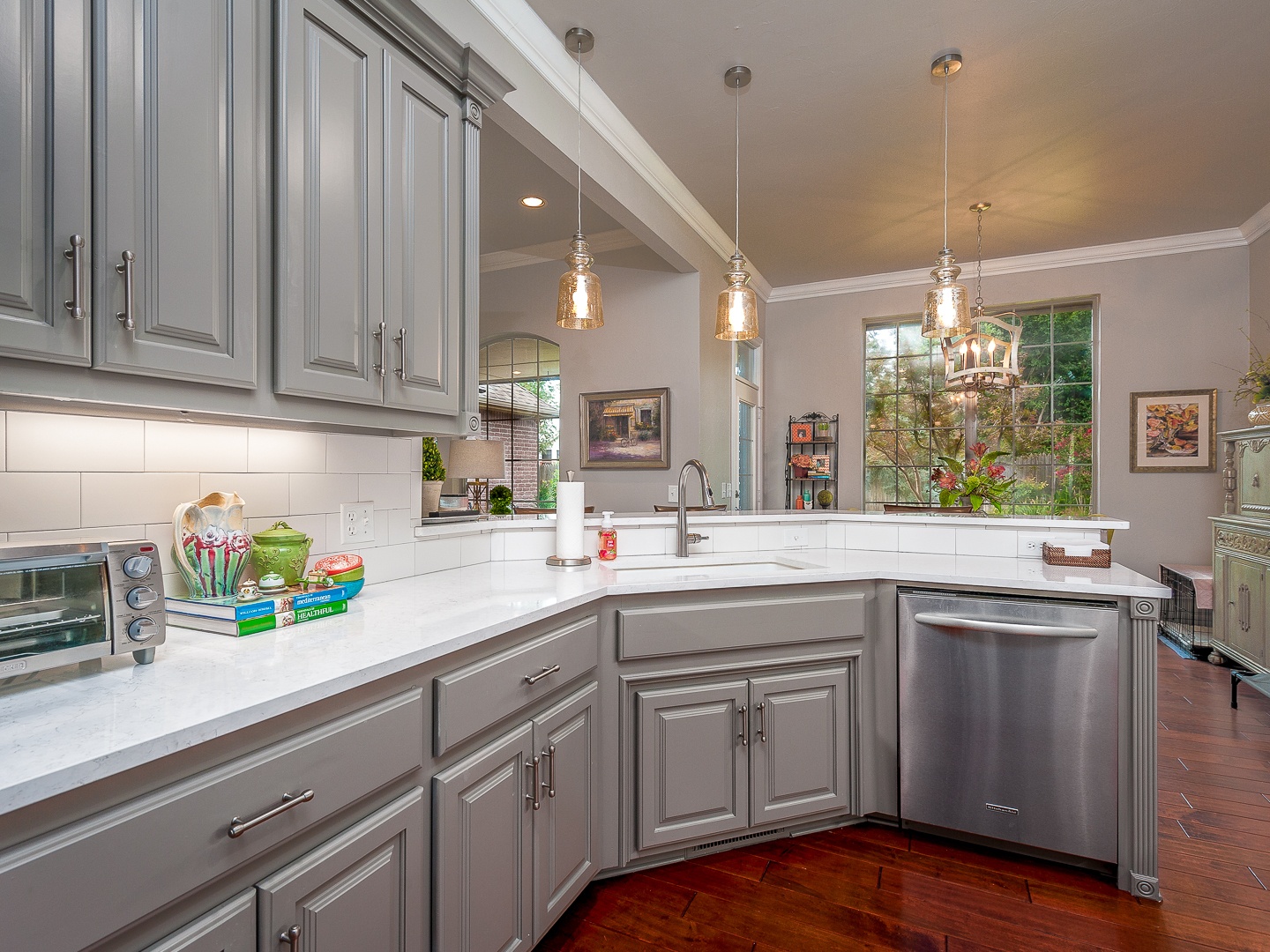 Creating your Kitchen Colour Scheme from Scratch
New design trends come and go, but most of us want a kitchen we can live with forever – or at least the next 5 years. Yet choosing a colour palette can seem incredibly daunting with conflicting advice at every turn. If you've made the decision to use replacement kitchen doors for a quick and easy facelift, here's how to create a colour scheme that gives your kitchen timeless appeal.
What's the Dominant Colour?
This could come from your high gloss kitchen doors, your floor or even your worktop. Take your cue from this colour, treating it as your basic neutral. And remember, white is only boring if you want it to be!
Warm or Cool?
Next, you need to assess the underlying tone of your chosen dominant colour. If your bright white gloss doors have a blue undertone, avoid using a warm cream for your walls. Instead, stick with steely greys, blues or cool aqua greens then warm everything up with a little pop of orange.
If your underlying scheme is warm – or there's plenty of copper and brass in your kitchen – then build warm tones of cream, buttermilk yellow, pumpkin and tan into your scheme. A Moroccan blue tiled splashback can add extra pizazz.
What's your Trend?
Now you're ready to build your scheme it's time to look at colour trends. These range from pretty pastels, through high saturation brights to monochromatic tones in the same colour family.
Picking your colour trend is a way to choose the right paint palette for your newly revamped kitchen. Pastels can be fresh and bright – pink can look unexpectedly great in a light kitchen – and create a sense of space. But overdo it and you'll feel like you're in a nursery.
Monochromes create a sophisticated scheme but are they too chic for your family kitchen? Brights can be overpowering, but in a small kitchen a rich dark jewel tone carried across the walls and replacement kitchen doors can play a clever optical trick of blurring the boundaries to make a space look larger.
Keep it Timeless
White, cream or grey are timeless choices for your kitchen cabinets along with rich or pale woods. They're versatile, flexible and can be taken in any direction from country cosy to cool and industrial. To avoid the bland without creating a scheme you'll hate in a few months time try out the following timeless themes:
• Cool white with a pop of red – for a sleek and modern take on gloss white introduce broken white and pale sage for your walls then warm everything up with pops of cayenne pepper red for a fresh take on industrial style.
• Breezy beachside blue – pick up the cool undertones of bright matte white with aqua blue and the palest French grey. A bowl of oranges or an orange patterned splashback brings the wow factor.
• Warm cream – don't play safe when you want to create the ultimate shaker style kitchen. Add shades of brown from wheat to deep nutmeg to add ultimate warmth and comfort to your autumn kitchen. Then in spring freshen up with buttery vanilla walls and pastel hints of French lavender for the ultimate country kitchen.
• Modern oak – Whether you opt for light oak or rich walnut for your replacement kitchen doors, use sleek and modern citrus to move away from the country kitchen look. Unify the scheme with dove grey walls and hints of zingy lemon and tangerine for a juicy and delicious kitchen!
• Grey and metallics – austere grey and rich copper are a match made in heaven. This time keep the walls monochromatic and let the copper really pop. Lampshades, taps, pans or door hardware all complete this surprisingly chic and warm look.
Feeling inspired to update your kitchen? Then why not order your new kitchen doors today?