>
>
How To Make Over Your Kitchen On A Budget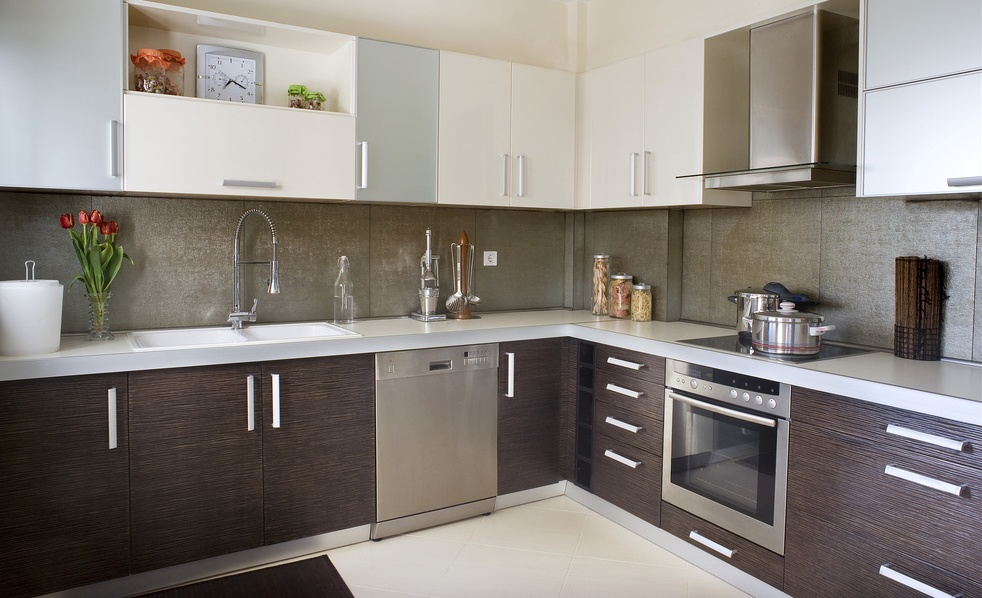 How To Make Over Your Kitchen On A Budget
If you're heading into 2018 feeling tired of looking at your tired kitchen then we're here to save the day. The kitchen is the heart of many homes, so a total overhaul may be disruptive (or just out of your budget) this year, but that doesn't mean you're short on options. We've pulled together some great tips on how to make a big difference on a small budget.
Change the Cupboard Doors
If you're happy with the overall shape and design of your kitchen but are bored with how it looks then there's no need to replace the entire units – just swap the doors. Choose off-the-shelf or custom-made options to immediately make over the entire feel of your kitchen. It's simple and straightforward DIY-wise, just remove the old doors and screw on the new ones.
This way you can tap into many of the current kitchen trends for much less than a total refurb. Get involved in the metallic trend with the sleek and clean appeal of titanium look doors then accessorise with your metal cooking utensils tastefully displayed on the wall. This look also suits if you want to go super-minimalist for a cool and clean kitchen atmosphere.
If you're looking for something cosier then there are bold colours like these chilli red replacement kitchen doors which will add spice to any décor. You could also choose the more traditional look of a warm wood door front, which are practical and adaptable and will allow for further revamping in the future in case you want to change the colours you use around them. It's good value, easy and available to order now – what more do you need?
Add a Stunning Backsplash
The tiled or boarded area around your sink, known as the backsplash is a great aspect to make over for a big impact. Depending on how much you want to spend, and how crafty you are, this can take just a couple of hours but will make a huge difference. At the bottom end of the scale, you can choose readily available tile paint which will cover the old fittings in a couple of coats. These products are washable and durable so should go the distance in this hard-working corner of your kitchen.
The next step is to look at removing just the tiles and replacing them. Budget-friendly options include using old pallet wood or using beading boards to create a herringbone design. Other attractive looking options are using smaller tiles in a mosaic fashion, or even just getting new panels of stick-on tiles which you can use to directly cover the old ones. It's amazing how much of a change these small details will create.
Refresh Your Lighting
New lighting is the last of our suggestions here and can completely refresh the look of your kitchen. Start at the lower end of the scale by simply replacing your lampshades to up or downlighters, or consider replacing the fittings with industrial-style open shades to be bang on trend for 2018. If you've got a little cash to play with then consult an electrician on easy ways to overhaul your current arrangements, such as longer drop-down cables.
Lighting under your cabinets can also make cooking in your kitchen a different experience. This could be installed while your cabinet doors are off for replacement and makes a surprising difference. Once in place these small lighting fixtures will let you see more of what you're doing and make cooking more enjoyable. You can also choose plug-in sets that will run directly under your units but don't require professional fitting. The choice is yours!
So if you're sick of your kitchen's appeal then don't hang about in 2018, it's easy to make a big change!